Beautiful Dining Hall Now Open!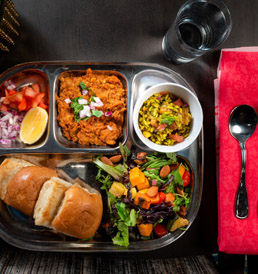 Gorgeous indoor and outdoor covered dining halls where you have access to delicious international cuisine. The large kitchen is exclusively vegetarian.
The menus are created by our own gourmet chef, Rajan Mistry. Rajan is a Canadian native with Indian & African roots who grew up in Georgia. A Georgia State graduate, and a true foodie at heart, Rajan worked in his family's catering & hospitality operation, while maintaining a career in IT. He always knew that he wanted to take his family's passion for food and feeding the community and take it to the next level. Today, he is a co-owner at S3 Catering, a catering company that specializes in multicultural cuisine.
1195 Godavari Way,
Wesley Chapel, FL 33543
​Phone: (813) 534-4127